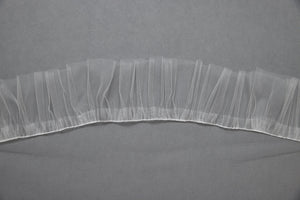 Ruffle Edge
This item is handmade and made to order.


This two tiered veil has a 10 inch ruffle trim all the way around the edge of the veil.

The veil is handcrafted with ivory tulle and is hand sewn to a 4.5inch comb. The edge of the comb is hand wrapped in ivory ribbon. The comb is slightly curved to sit flat against the hair, following the natural curve of your head. 
This veil is made with a 30 inch blusher. The blusher can be pulled to the back to create a pretty two-tier, more voluminous look, if wearing the blusher over the face is not desired. The ruffles give drama and volume to any dress!
This veil does not come in a single tiered option. 
We also offer a bespoke service allowing brides to create a unique veil that is the perfect finishing touch. Bespoke lengths also available.


-
The price listed below is based on a short length veil (33"). Prices will vary depending on veil length, style, types of tulle and trims.
Regular price $0.00 $577.00 Sale