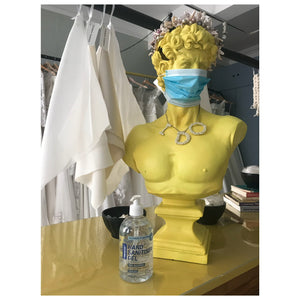 You can still look forward to the perfect Rachel Scott experience, even during the Coronavirus outbreak!
Don't worry, you can still look forward to the perfect Rachel Scott experience, even during the Coronavirus outbreak!
The Rachel Scott experience has always been centred around being welcoming, flexible and totally accessible 24/7 and not even the current global pandemic will change that!
We may not have been able to meet clients in person for a while but we've continued to be available via phone, email, video calls and the occasional message by carrier pigeon. (*no actual pigeons were harmed in the making of this blog post.)
As of Monday 29th June, we were given the official go ahead to open our doors again and are delighted to be welcoming clients back into the shop! Real actual people in real actual dresses! Never been so excited for a Monday morning…
We've always been known for our flexibility on how appointments run, gearing the whole experience around what is best for the individual client and would never normally put rules in place for any aspect. Your appointment – your way! We'd normally invite you to bring as many or as few guests as you like, try on as many or as few dresses as you need and we'd be definitely be actively encouraging you to feel all the fabrics and touch the dresses at every opportunity…
For the next while though (hopefully a very short while…), the new Government rules and guidelines that have been brought into force to suppress Coronavirus, means that for the first time in our 16 years we've had to introduce a few temporary restrictions. (grrr….).
We've been putting our creative brains to good use by redesigning and reinventing our appointment format a little. So, while we make sure to abide fully with the guidelines and keep our brides, our guests and our staff safe, we can continue to provide you with the amazing dress shopping experience you'd expect from Rachel Scott Couture - full of inspiration, expert advice and relaxed fun! 
Rest assured, our ability to make you feel welcomed, the genuine advice we give, the quality of our collections and our creative vibrancy have definitely NOT been restricted!
Find out more about our range of appointment options here.
Looking forward to welcoming you to Rachel Scott soon!