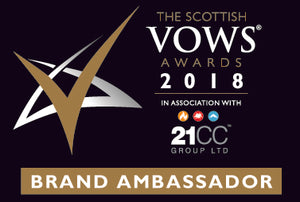 VOWS Brand Ambassador and Judge 2018
I am a proud supporter of exceptional customer service. At Rachel Scott Couture, we always put the client's needs, and most importantly their feelings, first. That is at the centre of everything my team and I do. I believe it's my job to create exceptional memories for every bride and I feel privileged to have helped guide hundreds of brides through their wedding dress journeys over the last fourteen years.

The VOWS Awards has always been about celebrating those who genuinely provide outstanding customer service and having won the Best Bridal Retailer in Scotland title ourselves in 2013, 2014 and 2015, I was then honoured to have been asked to become a VOWS Brand Ambassador in 2016, again in 2017 AND now also in 2018!

I'm excited to be carrying on my work with VOWS, promoting excellence in customer service throughout the wedding industry, supporting fellow retailers to continually raise standards and demonstrating just how much emphasis truly amazing businesses will put on giving consistently high standards.

As part of my Brand Ambassador role, I'll be in the judging team again for 2018 and it's a role I know we all take very seriously. Having seen it from both sides, I know just how much time and effort each finalist puts into creating truly special memories for their clients and equally, I know how much time and effort the whole judging panel puts into making sure we get the decisions just right! It's always a daunting task but I really can't wait to get started.

Right, VOWS judging pack... bring it on, I'm ready for you.