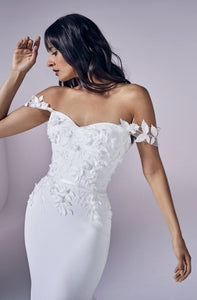 Suzanne Neville Designer Day and 2021 Collection Launch
Modern Love 2021 Collection Launch and Private Consultations Appointments with Suzanne Neville.
2021 Modern Love Collection Launch
Be one of the very first to view (and try!) the 2021 Modern Love collection, launching for the very first time in Scotland at our preview event.
With private appointments available from 24th to 28th September, let us introduce you to the unsurpassed structure, exquisite construction and sumptuous fabric that Suzanne is world renowned for.
If you're a Suzanne Neville fan (and with that quality of fit, who wouldn't be!?) this is ideal opportunity to choose your perfect Suzanne Neville dress from the very latest designs.
Private Consultations with Suzanne Neville
If you're ready to choose your Suzanne Neville dress, why not arrange a private one to one consultation with Suzanne herself as well!? A wonderfully rare opportunity to meet the designer in person, consulting directly with her as she works her couture magic to create your perfect wedding look.
Guaranteed to be something entirely personal and wonderfully bespoke, designed and tailored to suit you perfectly, this is definitely an opportunity not to be missed.
Email  or call us to find out more or arrange your private consultation.