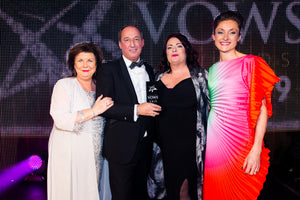 Judging Duties for VOWS Awards 2019 Complete!
Having won multiply times previously, I was asked to take the honour of stepping up and becoming a judge in 2016. It's a privileged position that I've retained for the last 4 years, it's certainly not an easy task at all but definitely one that I thoroughly enjoy being part of.
The dedication of so many of my fellow independent business owners is truly awe inspiring and I'm incredibly proud to be part of such a supportive, innovative and hard working group of independent businesses.
I choose to continue to be part of the VOWS judging team to ensure I play my part in helping celebrate those achievements and rewarding those who truly put their customers wedding planning memories first.
2019 Judging Team on Awards Night! 
The Scottish VOWS Awards have always shown true integrity and transparency when it comes to the nominating and judging process and, having had the honour of experiencing the system from both sides, it's confirmed that integrity to me even more.
Huge congratulations to all of the nominees and winners for 2019!
It was a fantastic night at the awards dinner on the 18th November where we finally got to reveal the winners and celebrate with them. Elaine C Smith was hosting (Glaswegian Gruffalo was a definite highlight!) and non stop entertainment by Hireaband kept the party going!
Elaine C Smith, Robert & Vivien Kyle, and Rachel!
Well done in particular to Robert and Vivien Kyle who scooped the Industry Award for their services to the Scottish Wedding Industry. Delighted to have had the honour of presenting you with your trophy!