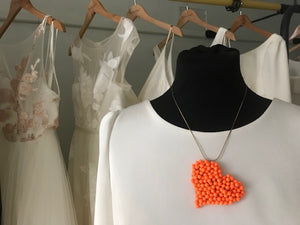 Wedding Dress Terminology - Samples Sales and Super Quick Time Scales!
Following on our little series of posts talking about wedding dress jargon, here's a few focusing on options for choosing your dress if you've not got long to go until your wedding date. Perhaps you've decided you don't want a long engagement, or perhaps with everything going on relating to Covid restrictions just now, you've decided to have a smaller ceremony very soon, followed by a bigger celebration in a year or two? Whatever your reasons for needing a dress quickly, here's a few pointers and term definitions.
Lead times – The length of time it takes to have your dress made and delivered. This will vary depending on the type of designer you choose, where it is made and the type of service you've chosen, i.e. made to measure, toile fittings etc. Retailers may also claim different lengths of lead based on their own preference for when they would want orders confirmed by.
Rachel says – "We don't set minimum timescales, I don't like my brides being under that level of pressure to order quickly when it's not necessary. I choose to work with designers where dresses are made in the designers own studios so they can be incredibly flexible and accommodating with timescales."
Off the Rack – A rail of pre made dresses and you choose from those. Most likely to be a range of standard sizes. This version of buying is most like high street fashion shopping as you'd know it, (often referred to as 'ready to wear') where stocks of dresses are made ahead of the season so that customers can purchase and wear instantly.
"If you're looking for a wedding dress in a hurry then opting for an 'off the rack' dress might seem like the best (or only) option, but remember at Rachel Scott Couture we can have dresses make in record quick time so there's no need for you to feel you're going to have to compromise. Thanks to our flexibility and the naturally accommodating nature of our UK based designers, you'd be amazed to hear how short a time our current dress making record is! (Literally counted in days, rather than even weeks or months…) So if you think your wedding is so soon that you can't possibly get your dream dress, never feel afraid to ask if we can do it in time – the very real chances are that we can!
Shop Samples – The collection of dresses a boutique will display in store and use for clients to try on to help decide which style is right for them. A boutique's collection of dresses is likely to include a number of different designers and showcase selected pieces from each of those designers.
If you decide one of the styles is the perfect dress for you, the order will be process and the designers will make up a brand new one for you.
Rachel says - "We showcase a wide range of the most stylish pieces from each of our designer's collections as our shop samples, adding and updating new pieces throughout the season. It's useful to bear in mind we can also access any of the designers extended collections as well, even if it's one we don't normally showcase in store. So, if you spot a gem of a dress from one of our designers that you would love to try on, we can borrow it in for you!"
Sample Sale – This is where you would buy a shop's display sample dress directly rather than having a brand new one ordered and made for you. Buying an ex display sample, you should of course expect to purchase it at a reduced rate compared to a full price dress. Bear in mind that the samples will have been worn in the shop and possibly used for fashion shows or photoshoots so you should expect some level of wear and tear on the dresses, although the price you're charged should be reduced significantly to make up for that!
Rachel says – "Rather than having a single sample sale day event annually, we host our sample sale ongoing throughout the year. That means you can purchase your dress whenever suits you and still experience the appointment privacy and high level client experience we're known for at Rachel Scott Couture.
This is a great instant option if you need your wedding dress quickly but also a great option to consider if you're keen to keep within a specific budget – instant dress and instant bargain! Normally our dresses start at £2500, however our ex-display sample sale dresses start at just £300!"
Take a look through our current sample sale dresses now! 
Remember to get in touch if there's specific terms you'd love to understand better! From what the giant difference is between silk and satin, to why vegan 'silk' is different to traditional silk, from skirt shapes and necklines names, from how we work out measurements to how long we need to make your dress - we'll make sure you get the answers!