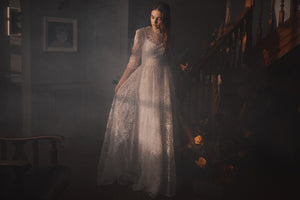 Sample Sale - New Styles Added!
We've updated our sample sale dress options so if you're keen to get a wonderful designer dress at a wonderfully discounted price, then it's definitely worth a look!
We've lowered prices for some of the styles currently on offer, as well as adding brand new styles into the mix.
View the sale here - Sample Sale Collection
Remember there's only one dress of each style so if you see something you like then best to get in touch quickly before it disappears.
Let us know your favourite and we can arrange a private appointment for you to try on before you buy.
Samples on offer vary in size although are mostly around a 10/12. There's always options for adjusting sizing so don't worry if that isn't your normal dress size, it's still worth getting in touch and we can work out a best plan.
Best wishes to everyone looking for their dream dress and see you soon!