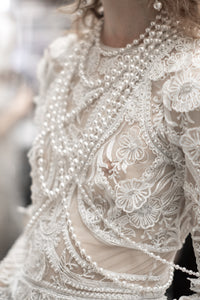 New Designer: Naeem Khan Bridal!
Naeem Khan Bridal is going to be available for the first time in Scotland! And you can shop the collection exclusively at Rachel Scott Couture from March 2023.

If you know us… you know we love to be able to offer our brides something different, and we've only gone and gotten a brand new designer, never before seen in Scotland. Welcome the master of all things textured, beaded and embellished, Naeem Khan!
At Rachel Scott Couture, we value quality and craftsmanship above all else, and Naeem Khan wedding dresses certainly deliver with their ornate detailing.
If you aren't familiar with Naeem Khan, then let us assure you, his work will not disappoint. Having grown up in Mumbai surrounded by beautiful art and culture, Naeem cultivated a vast knowledge of textiles under the watchful eye of his grandfather and father, both of whom designed intricate clothing worn by the Indian royal families. A coveted post indeed!
"I came from a very humble and stable home and my parents have been in the business of fabrics and hand embroidery for decades" – Naeem Khan 
Now based in New York, Khan had moved to the United States as a teenager to begin his career in design, becoming an apprentice to legendary American designer Halston at the age of only twenty! Here, Khan learned how to drape and cut fabric  to create clean, elegant silhouettes that he eventually merged with his familial knowledge of beautiful and intricate textiles to create what we see today, and what is now Khan's signature style.
"I've stuck to my craft […] because of the importance it holds in my family — [making] them who they are and [making] me who I am," – Naeem Khan
This marrying of world's is what makes Naeem's work unique, and is exactly why we thought we needed to have him here at Rachel Scott Couture.
Since then, Khan's work has adorned A-listers all over the world with the likes of Beyoncé, Jennifer Lopez, Taylor Swift, Michelle Obama, and even the Princess of Wales, Kate Middleton all wearing his designs.
Naeem Khan Bridal launched in 2013, and when approached by Rachel Scott Couture, Khan exclaimed, "I am thrilled to bring my designs to Rachel Scott Couture and I look forward to dressing many future Scotland brides!"
Well, we are quite flattered and our little Edinburgh bridal boutique is more than obliging! So all you brides-to-be, get ready to be the first to try on new Naeem Khan in Scotland!
So, a very Merry Christmas indeed!!
Get in touch if you would like to know more...
Naeem Khan New Collection Launch & Trunk Show