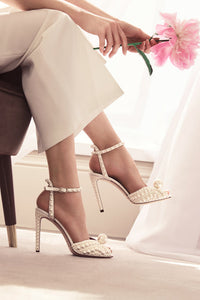 Jimmy Choo Evening with Rachel Scott and Harvey Nichols, Edinburgh.
New Date Just Announced!
27th April 2022 - 6.30pm - tickets available NOW!
(8th February 2022 event - SOLD OUT.)
Yet again, we're joining forces with our good friends at Jimmy Choo and Harvey Nichols to give you an indulgent evening of bridal styling and shoe glamour.
From choosing the perfect dress, hair accessory, veil or beaded belt - we'll be there with answers to all your bridal styling questions and help you coordinate your perfect bridal outfit with those perfect Jimmy Choo's!
Book Your Complimentary Ticket NOW!
Following on from our successful series of virtual evenings and sold out instore events - we're now releasing extra event dates. Hooray for more Choos!
27th April 2022 - 6.30pm.
So if you thought you'd missed out, don't worry - book your space now!
What to Expect On The Night - 
Hear hints and tips from the experts at Jimmy Choo while they showcase the very latest styles from the new collections.
Discover the unique design service offered at Jimmy Choo, where you can have your shoes made entirely bespoke and in whatever colour, heel height and design you choose! Why not even have them personalised with your initials and wedding date!?
Rachel Scott will also be there in person to give advice and guidance on how best to coordinating your bridal look - from initial dress choices to the finishing touches of veils, boleros and jewellery.
Find out how best to match to your wedding dress and explore the crucial difference that the right pair of shoes can make to your entire look.
So please join the luxury styling experts from Rachel Scott, Jimmy Choo and Harvey Nichols for an evening of bridal (and Choo) perfection.
Complimentary tickets are now available  - Confirm Your Attendance!