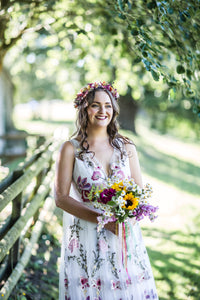 It's the start of an exciting new adventure for our Amber!
From part time assistant to full time store manager at both our bridal and our accessories boutiques, Amber has been a trusted colleague, support and friend for the last 11 years.
With her unending devotion to our brides and her total commitment to always doing the very best for those around her, she has been a true asset to both the business and to me personally.
It has been an absolute joy to watch her develop and grow over the years and I am incredibly proud of all she has achieved.
But now the time has come for her next big life adventure and she's moving on to follow her dream of building her own business, designing and hand making baby clothing.
Inspired by the arrival of her very gorgeous daughter Olive Fleur in 2019, Amber has been using her creative design talents and impeccable clothing construction expertise to begin her new baby clothing line - Little Olive.
So, although it's a sad farewell to Amber from the Rachel Scott team, we are beyond excited for her and can't wait to see all that her new business venture achieves.
Amber, it has a been a wonderful honour having you as such an integral part of the Rachel Scott team and I can't wait to see you flourish in your next exciting life adventure.
Lots of love, Rachel. xx
Amber on her wedding day - officially the most creative wedding styling you've ever seen!
The introduction of Christmas jumper day at Rachel Scott Couture (I promise to keep this one up after you leave Amber!)
The creation of our beaded belts including ones hand-embroidered by Amber!
Happy birthday baby Olive!
Olive definitely getting getting used to modeling for the new
Little Olive
Baby Clothing line! 
Total natural...